Impossible Dream

Dream the impossible dream,
Plot the impossible scheme,
Try to go where you know,
No one has ever been seen.

Succumb to her charms in the night.
Let your imagination take flight,
Fly to the moon, it's never too soon,
For her to come into the light.

Rally your courage for the fight,
Cast off disdainers with your might,
Crushed too soon, an idea will swoon.
Don't let that be her plight.

Forge on with it day-by-day,
Let not little things get in your way.
Crawl, walk, run, and then fly,
Don't let failure be your sway.

For when it's all said and done,
And all your battles have been won,
There's no time left to be shy,
The wisdom was in the fun,

Of doing the impossible dream.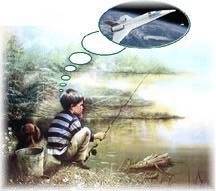 Boy Fishing with Dog
for sale on Ebay

Ascender 2 is the Bristol
entry for the X Prize


Copyright 2004 © Ronald W. Hull

6/29/04

Mail

More Poems

My Place

Read War's End, the Novel