I Forgot

I forgot to say, I Love You,
ten thousand times or more.
I forgot your birthday,
forgot it by the score.

I forgot the day we met.
Was it a restaurant or seashore?
I forgot the times we spent,
just watching the rain pour.

I forgot what day it was,
yesterday, I think?
When I first discovered,
there was a missing link.

Between what I thought,
and what I think.

I contacted a psychiatrist,
and then I forgot to go.
I rev up for each day to begin,
only to watch it go by slow.

You may think I am crazy,
to forget where I must go.
You may think I am lazy,
and just think I don't know.

But I vetoed the stem cell bill,
many years ago.
And now I wander my muddled mind,
and forget what I don't know.

Muhammad Ali haunts me.
From his punch I am too slow.
My brain cells turn to mush.
With every smashing blow.

Christopher Reeve's smile,
is etched across my mind.
I try to forget him daily,
but he is always right behind.

And my old friend Ronald Reagan,
waits around the bend.
When I forget I'm living,
then my mind will mend.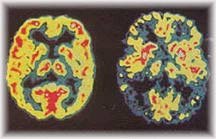 Brain on Alzheimers


Mail

More Poems

My Place

Read War's End, the Novel


Copyright 2007 © Ronald W. Hull


1/21/07