Homecoming

No matter how far I wander,
No matter where I roam.
My mind drifts off in memories,
Memories of my home.

Thoughts of hilltop vistas,
In the morning dew.
Long walks at sunrise,
Warmed by words from you.

Picnics in the park,
Running free and true.
Days of friends and family,
Days of me and you.

Blazing beachside sunsets,
Bonfires after the sun went down.
Days of wine and roses,
My face knew not a frown.

In desolate days of lonely,
Listening to the cold rain pound.
I see my home in the distance,
And what I've lost, I've found.

So many times I've seen her,
Just around the bend.
The home of my childhood,
Where childhoods never end.

So lay me beneath the tall tree,
Beside the murmuring stream.
And I will be home at last,
The home for which I dream.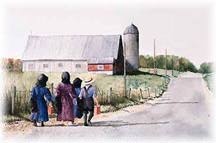 Amish Children Coming Home

Copyright 2004 © Ronald W. Hull

4/11/0




Coming Home, Thorpness

by David Welsh

Mail
More Poems
My Place


Read War's End, the Novel