Holding Back the Sea

Starting as marshlands,
where river meets the sea.
Where food was plentiful,
and fresh water was free.

Boatmen who poled,
marshlands in the breeze,
found food aplenty,
and a life of ease.

They built their houses,
on nearby high ground.
Boats ready to flee,
floods came to drown.

Trade was good,
both in land and out.
With wealth came edifices,
beautiful, stately and stout.

But the sea is relentless,
moving in, moving away.
Dikes and levies built,
to keep the sea at bay.

Oh such wealth!
Such power to be!
Such dignity to shine.
Legendary city by the sea.

Menouthis, Kekova, Phasis,
to name but three.
All have succumbed
to the powers that be.

Venice, Amsterdam, Old Orleans,
are trying to hold back time.
But the sea is as relentless,
as the Ancient Mariner's rhyme.

Storms will come to ravish.
Tsunamis will slip silently in.
Subsidence into the muck.
Earthquakes will always win.

Tides will have their way.
Coastline will erode to bay.
until the sea and marshlands,
reclaim their light of day.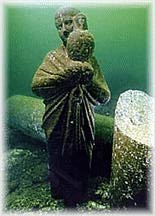 Photo Courtesy
Lexicorient.com

Mail

More Poems

My Place

Read War's End, the Novel
Copyright 2006 © Ronald W. Hull


8/26/06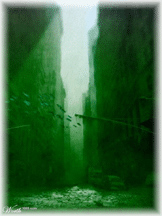 Photo Courtesy
Worth1000.com