Hanging Gardens of Houston

At the dawning of a new age,
in a land, rich beyond compare.

Stark concrete glass, and steel,
gave way to something rare.

They dredged her bayous deep,
and drained the swampy ground.

Drove all the little creatures away,
And the gater's booming sound.

The choking dust of summer,
Followed winter's mud and rain.

Concrete the whole damn thing over,
into one hot, hard, uninviting, plain.

Strip malls and billboards,
to line the busy streets.

Freeways and bypasses,
to keep us in our cars' seats.

Building another freeway,
tearing houses down.

This time, something's different,
we smile, rather than frown.

The grooved walls of trench cascade,
like ancient Nineveh stone.

Bridges gracefully leap the span,
like rainbows in the morn.



Vines grow up the walls,
casting green delight.

Pines, myrtles and eucalyptus,
top the great walls' height.

White plumed grasses line the edge,
catching morning light.

A calm in the morning commute,
to dream of Babylon gone by.

Where plants thrive on carbon dioxide,
in the new, Mesopotamian sky.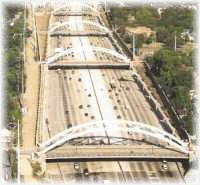 Images Courtesy Houston Gateway
and HoustonFreeways.com

Mail

More Poems

My Place

Read War's End, the Novel
Copyright 2006 © Ronald W. Hull

1/14/06