Gambling

As I go gamboling down to my destruction,
I choose not to read the road signs.

The subtle lines, silent, amid my finds,
and continually take the wrong path.

I'm so smart my system's iron tight.
So many tries the next one just might…

No… I know that it will hit,
Bayes law and a matter of whit.

Hocked my car, my house, and my retirement.
Borrowed from friends, relatives, and the sharks.

Robbed Peter to pay Paul, and through it all,
I'm cool and calm until the dog barks.

Without a bone, without a home--a gambling gnome,
waiting for that lucky break, that big take,

That never comes...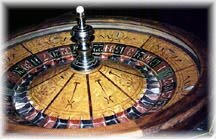 Creede Historic Roulette Wheel

Steve Lackey

Mail

More Poems

My Place

Read War's End, the Novel
Copyright 2006 © Ronald W. Hull


6/17/06