Freeway

Cut off, cut in, lie, cheat and steal.
Anything goes when you're free wheel.
Caught up in the beat, in the deal.

Frenetic activity on the street.
Staccato, rapido, short and sweet.
Laptops and cell phones communicate neat.

Conference calls and message malls.
No time for anyone to relax at all.
In this precooked, fast food, microwaved pall.

Clone those cows, cloned corn to done.
Food to celebrate; food for fun.
Get your food on the run.

Buy a diploma; work a deal.
Get ahead anyway you feel.
It's the American way to get real.

Cut throat, go for broke, who's to care?
Unless you are a robber baron,
You ain't going nowhere.

So get on the bus, and come with us,
Where the West is wild and free,
Come to America and join the crowd.

On the freeway to nowhere,
Can't you see?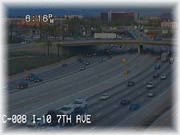 Copyright 2003 © Ronald W. Hull

3/16/03

Mail

More Poems

My Place

Read War's End, the Novel