Fog

A fog creeps in the corners of my mind,
making dreams of promises left behind.

Making dreams of loves that I have pined,
covering the creases now so defined.

Muting the sorrow of days long past,
covering the marrow of bones well cast.

Upon the pile of dreams that didn't last.
Gone with the wind in a ship's full mast.

As we sail into the mist of a fog bound bay,
not knowing what harm lies in our way.

I remember that one, that bright shining day,
when we saw so clearly what ahead of us lay.

But all that is lost in the mist of time,
as a fog rolls in and we lose reason, rhyme.

As a fog rolls in like it always does,
in due time.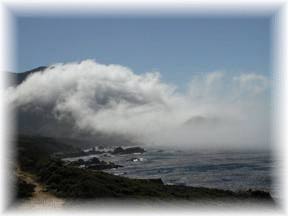 Fog Photo ©
Steve Wolf
Mail

More Poems

My Place

Copyright 2012 © Ronald W. Hull

2/16/12


It's in the Water and Other Stories