Flatulent Muse

He wanted to frill her morose muse.
What did he have to laconically lose?
Perhaps just full frontal vagina views.
Since when is that big bald bad news?

The twirl of her hair in his serene sky,
Made him think of his face in her pie.
No one but Shirley could surely deny,
Why he dove in and didn't ask why.

There was no obtuse abuse on his part.
Lovemaking to him was a lucid lost art.
He couldn't bear their being blown apart.
When their gases exploded with full foul fart.

And so they reside in the sycamore sky.
Two lovers blown like jetsam on hiatus high.
Their sweet song, the sound of a silent sigh,
Their love as everlasting as a lecherous lie.

A new constellation bears their name,
Her muse will never be the sardonic same.
Unfettered from merely mortal mental game.
Like the gods they achieved immortal fame.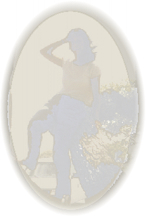 Mail
More Poems
My Place
Read War's End, the Novel
Read War's End, the Novel
Copyright 2005 © Ronald W. Hull


1/30/05