Fishing

My line is out,
the lure is deep.
Whatever I catch,
I get to keep.

My bait is right,
my hook is too,
my line is strong,
all brand-new.

I am persistent,
and will always wait.
For you never know the time,
or the date.

When luck or coincidence,
comes into play.
And I make a big catch,
that makes my day.

But those days are few,
and far between.
So I bide my time,
with patience and dream.

Of the big one,
that got away.
That I tried to forget,
but always stayed.

In a corner of my heart,
where such things reside.
Forgotten by most,
not trying to hide.

Forgotten by most,
but, I will abide.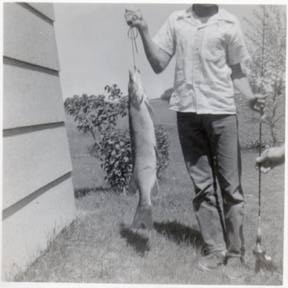 My first, and only, musky (much)
bigger ones got away) at 13 with
my new spin cast rod/reel.
31.5 inches and 7.5 lbs.

Try not thinking, "fish," while reading.

Mail

More Poems

My Place

Copyright 2012 © Ronald W. Hull

9/6/12


It's in the Water and Other Stories