How Far the Spring?

How far the spring?
I shan't not know.
For I am ensconced,
in deepening snow.

Winter drags on,
and tears at my soul.
My legs are like stumps,
numb feet have no goal.

I must keep the wind,
to my back.
swoops down to kill me,
in a sneak attack.

My food almost gone,
winter rages on.
I'm trapped in the snow,
with nowhere to go.

And the cold seeps in,
my coverlet of skin.
Until I think I may die,
before the spring sky,

Nourishes me again.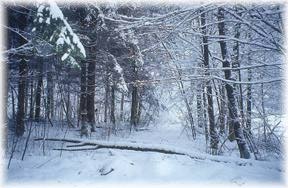 Image Courtesy HeavenaWaits-WordPress.com

Mail
More Poems

My Place

Read War's End, the Novel

Copyright 2010 © Ronald W. Hull

2/13/10