Fantasy

In a land so far away that it never was,
I wrote a drama with a musical score.

There were creatures wild and free,
with human features who could talk to me.

There were treasures beyond compare,
many adventures that brought a scare.

No matter the trauma I always won,
good over evil was how it was spun.

Makes me long for tragedy and its despair,
the human condition drawn and laid bare.

For aren't poets the light of the world?
Bearing the blood of the saber unfurled?

If all is just the thrill to the nth degree,
and we come away scared, thrilled to the t.

But unscathed, unhurt, unsoiled, unsore,
if life is a fantasy, what is real life for?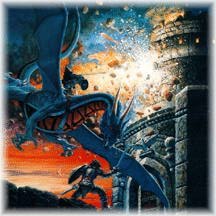 Image Source Unknown

Mail

More Poems

My Place

Read War's End, the Novel

Copyright 2007 © Ronald W. Hull

6/9/07