A Fall Drive

There was a time not long ago,
when, after church we would go,
on a fall drive.

Our week's work done and free for fun,
to enjoy the season's angled sun.

Gas was cheap, the sky was clear,
nothing better to do this time of year.

We would stop by the creek,
a lonely picnic table to seek.

A tablecloth Mom would spread,
pick your topping on sliced white bread.

Quick to eat and wander off,
skipping rocks we'd laugh and scoff.

Dad would pick a scenic route,
and we would watch for crow or coot.

The road would wander hill and farm,
mid green fields, white house, red barn.

Hillsides ablaze with scarlet and gold,
accenting the green with colours olde.

Ooohs! and Aaahs! 'round every turn,
we, with breath abated, waited, yearned.

For the derelict shed, the rusty tractor,
accenting nature's wondrous actor.

We returned home to the tasks at hand,
refreshed to know more of our great land.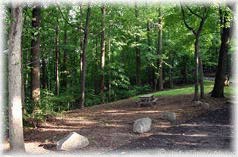 Mail
More Poems

My Place

Read War's End, the Novel

Copyright 2008 © Ronald W. Hull

9/4/08