Eye of Ike

The eye of Ike stared down the Texas coast,
and Galveston, he thirsted for the most.

Preceded by a stealthy surge,
Ike tricked the unwary with a fleeing urge.

With winds of might and saber wide,
the swath Ike cut was not denied.

With flooding rains and rising tide,
those caught twixt the two,
could not hide.

And though Ike's eye veered to the right,
sparing much of Houston from his might.

Without electricity it's hot and dark,
camping out with no water is no lark.

The eye of Ike blessed us bad,
the costliest disaster we've ever had.

But we will learn and soldier on,
for Ike's descendents will come again.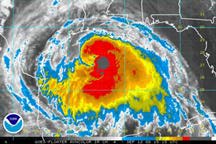 Image Courtesy NOAA

Mail

More Poems

My Place

Read War's End, the Novel

Copyright 2008 © Ronald W. Hull

9/14/08