Exploring

Across the continental divide,
to reach the shining sea.
The tall trees beckon,
as far as the eyes can see.

Hot sands blur the vision,
of ever changing dunes.
The birds' song is so varied,
a thousand native tunes.

Mountaintop view brings tears,
as cold wind pierces sight.
But awe the glorious sunrise,
from the sea to banish night.

White sand languid palm trees,
wave fronds in the breeze.
The hurricane is coming,
changing the shoreline with ease.

A thousand lakes of legend,
whose tranquil presence leads.
To Voyagers hale and hardy,
who plied these pleasant leagues.

Bayou dressed in ancient moss,
mysterious to the bay.
Cougar screams a wild pig kill,
as alligators sleep through the day.

A bull elk trumpets on high,
thousands of bisons graze below.
White goats traipse the high range,
where eagles drift so slow.



An autumn forest is peaceful,
a winter scene, serene.
Springtime brings its brilliance,
and summer grows between.

For all the land its glory,
a toast raised high, unseen,
for glory knows no boundary,
when nature starts to preen.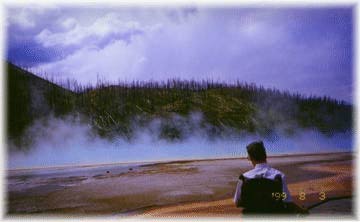 Mail

More Poems

My Place

Read War's End, the Novel

Copyright 2010 © Ronald W. Hull

7/24/10