Dubya Dubai

Mohamed came down from the mountain,
and saw the earth was free.

We'll have to fix that he said to himself,
camels running wild cannot be.

We must drive out the infidels,
and keep our women in tow.

So that we can populate the earth,
and make it to our moral.

With UAE, we will control the seas.
We'll transport WMDs with ease.

Dubya is so dumb he let us do it,
smoked our hash pipes--welcome to it.

Dubya, Dubai, Eeyeeii
I see contrails in the sky.

I see ships a sail for port.
I see ships a sail for hurt.

I see hatred in their holds.
As an old story slowly unfolds.

How the Greeks conquered Troy,
with gifts of greed and treacherous ploy.

Do not let Islam in our house,
a state religion with no spouse.

They dupe you Dubya with their offer,
Deceive you with their dirty, oily, coffer.

Do business with them we must,
but we cannot entirely trust.

Dubya, Dubai, Eeyeeii
not a lovely, way to die.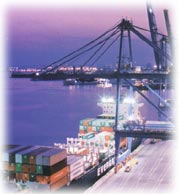 Mail
More Poems
My Place
Read War's End, the Novel
Read War's End, the Novel
Copyright 2006 © Ronald W. Hull

3/4/06