Dew Drop Inn

The Dew Drop Inn clings by the sea,
on a craggy cliff of mystery.

Whether tis there, whether tis not,
is not a subject for this spot.

For she is shielded by the mist,
seen by some, but not by this.

She drops in, on thirsty plants,
on the furry, hair of ants.

On parched desert's dunes of sand,
all the creatures far inland.

She adds color to the pale,
shields against the Sun's hot hale.

So, do drop in if you have the chance,
bring your jokes, your song, your dance.

For you are always welcome,
at the Dew Drop Inn.

Like the gift of water,
you dew me in.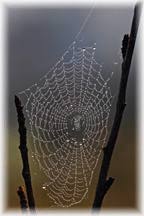 Photo Courtesy Wikimedia

Mail

More Poems

My Place

Read War's End, the Novel

Copyright 2008 © Ronald W. Hull

8/30/08