Dark Enigma

She cuts like a laser through the deep, dark night.
There's a fine fire burning in her engines bright.

Her skin is sleek and smooth as honed satin,
Her eyes as big and bright as the Rings of Saturn.

As deep and dark as a bottomless pit.
Drop a gaze into them to see if it will hit.

To try to turn her from her mission,
Is to try to put her rotation in recession.

A dark steed, a mighty force.
Keeps her on her scheduled course.

And so she charges through the night.
Chasing moonbeams in her flight.

In the morning she'll alight.
A radiant angel in the dawn's early light.




Total Solar Eclipse of 2001 Jun 21 (Chisamba, Zambia)
Photo (c)2001 by Fred Espenak Composite Solar Corona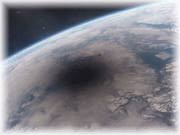 Looking Back on an Eclipsed Earth
Credit: Mir 27 Crew; Copyright: CNES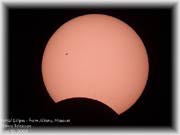 Dan Bush, Albany, Missouri, USA


Copyright 2002 © Ronald W. Hull

1/12/03

Mail

More Poems

My Place

Read War's End, the Novel