Dare

Have you ever taken a dare and won?
Or was it just all in fun? I did.

I dared when I was on the run,
not from the police, or it's pun.

But to places new under the sun,
places you want to be with your hon.

Don't worry about time or mon.
When you're dead, it's over and done.

So I dare you to get out of your cage.
Regardless of your station, or your age.

There's more to life than poetry.
Have you ever really, hugged a tree?

Have you ever felt, the wind in your face?
As you reach your peak and won the race?

Have you ever stared down a bear,
knowing that he could feel your fear?

Felt the smooth strength of a snake,
as calm as the waters of a secluded lake?

Stared at the stars in the moonless sky,
and asked yourself the question, Why?

Are you here except for the dare,
without a challenge, you'll never get there.

So, I dare you to act before it is too late,
be the first out of your starting gate.

And report back to all what you have done,
for there is so much to do under the sun.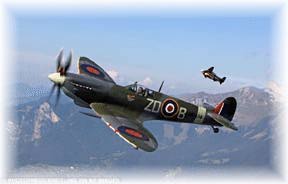 Image from London Daily Mail

Death-defying formation:
'Jetman' Yves Rossy flew alongside
an iconic British Spitfire flown by
Nigel Lamb above the Swiss mountains
for an airfield's annual 'fly-in'


Mail

More Poems

My Place

Copyright 2012 © Ronald W. Hull

11/15/12


It's in the Water and Other Stories