Comes a Sunny Day

World at war, skies are gray,
Comes a sunny day.

When skies were blue, love was true,
Children laughed at play.

When skies were bright, through the night,
We sang and danced till dawn.

The air was sweet, high with wheat.
We came hither, we went yon.

Before we were oppressed, put down,
And evil came to town.

Night skies red with bloody glow,
Thunder rock and rain below.

Death is night and in our fright,
We often kneel to pray.

When death is done, cast away,
Comes, again, a sunny day.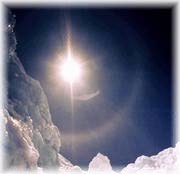 Copyright 2003 © Ronald W. Hull

3/29/03

Mail

More Poems

My Place

Read War's End, the Novel