Close Encounter

As I looked out one cool, October night.
My eyes beheld a wondrous sight.

Mars had come to dance round the moon.
A sight to make all lovers swoon.

His winged feet had flown him so near.
His rugged redness against her sheer.

As was foretold by the ancient seer,
to join again in the 25,000th year.

Humanity became so enthralled,
children laughed and old men bawled.

Wars stopped and everyone danced in the street.
Never had the world seen such a treat.

People begged NASA to send a rocket.
Everyone wanted a piece of Mars in their pocket.

Alas, our euphoria was very short-lived.
For the gift slipped away like sand that is sieved

The Earth turned on its axis to meet the might.
Of the warrior Mars and its gravity that night.

The oceans were tossed from their basins,
volcanoes erupted and earthquakes hastened.

The Armageddon wished for had come to pass.
And all souls went to heaven for the repast.

The Earth and Mars continued round the Sun,
A billion years later humanity returned to its fun.

Only to be swallowed by the source of its run.




Moon and Mars From Above the Clouds

FutureFoto 10/29/06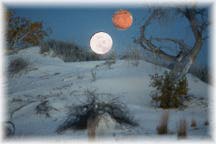 Moon and Mars Rise Over White Sands

FutureFoto 10/29/06

Mail

More Poems

My Place

Read War's End, the Novel
Copyright 2006 © Ronald W. Hull


7/29/06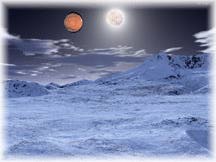 Moon and Mars Rise Over Denali Range

FutureFoto 10/29/06

For More Information:

NASA


Mail

More Poems

My Place

Read War's End, the Novel