Christmas Hangover

T'was the day after Christmas,
and all through the house,
not a creature was stirring,
not even the drunken louse.

The wrappings were spread,
here and there 'cross the room,
no one to pick them up,
everyone asleep until noon.

The tree was a shambles,
where the cat had played,
in a grotesque arrangement
trimmings everywhere disarrayed.

The turkey, half eaten,
still on the counter.
Repulsive to all,
except the furry pouncer.

The stockings were strewn,
by the bedside without care,
to bed went the parents,
children entering, beware!

The children all anxious,
to go outside and play,
opened the stale cereal boxes,
their sugar shock for the day.

The house decoration lights,
glowed in the midmorning sun,
all covered over with ice,
a frozen rain that had come.

And then from the kitchen,
there arose such a clatter,
the dog got the turkey,
sweet dreams to shatter.

Mom and Pop got up, still in a trance,
looked around the house they had to clean,
chased kids and pets out the door,
none of that chatter, just the football score.

In a moment as swift as the wink of an eye,
the sun went down in a bleary red sky.
Another Christmas over,
good riddance, and bye-bye.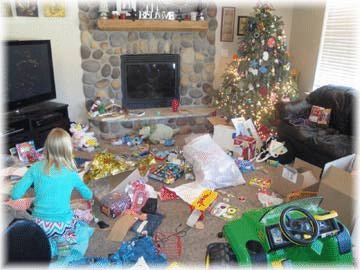 Image courtesy SadieandCrew.blogspot

After I wrote this, I realized it's a
common parody theme…

Mail Me

More Poems

My Place

Copyright 2013 © Ronald W. Hull
12/26/13



It's in the Water and Other Stories