Busy Bee

I'm as busy as a bee,
woe is me, woe is me.

Been on the phone,
all morning long.
No issues resolved,
only a frown.

Thought I'd relax for the week,
but that was not to be.
Trouble creeping up my doorstep,
that I don't have time to see.

The bee has it easy,
programmed in its flight.
While I scramble here and there,
just to make it right.

This busyness will cease, I guess,
on that fateful day.
When I keel over on the job,
and finally go… my way.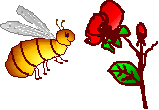 Drawing by Beh

Mail

More Poems

My Place

Read War's End, the Novel

Copyright 2011 © Ronald W. Hull

8/6/11