Breezy

She drifted in with the tide,
a soft night ride, by my side.
To flutter in my ear,
like a butterfly so near.

I can taste her sweet nectar,
doing justice as I reflect her,
in the mirror of my mind,
from the front, and behind.

She floats like that butterfly,
on the tip of a tail wind.
And sings as she floats,
a song never penned.

She breezes in and breezes out,
planting thoughts and leaving doubt.
Enchanting like a fairy princess,
slaying my heart, defenseless.

Breezy is the name I gave her,
easy are the thoughts that claim her,
it is so hard to blame her,
when they do not come true.

And so I leave the window open,
and hope that she will come.
And ease my heart before it's broken,
or at least, leave a token.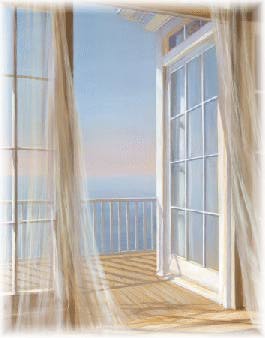 Sea Breeze I

Carol M. Sax

Mail

More Poems

My Place

Read War's End, the Novel

Copyright 2010 © Ronald W. Hull

6/19/10