Bloody Red

See the blood flow on the page,
Variegated red's all the rage.

Words obliterated with flowing red,
The very last poem my heart bled.

A bullet, precisely through my brain,
Feeling strange without any pain.

Sharp knife's slice of jugular vein,
Pumping blood in red refrain.

Crack of blow from baseball bat,
Bloody nose and bloody spat.

Bet you thought murder you'd find,
Just a paper cut to mess your mind.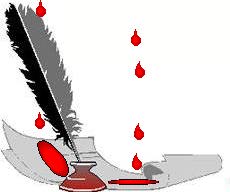 Copyright 2004 © Ronald W. Hull

3/20/04

Mail

More Poems

My Place

Read War's End, the Novel