Between

In land of life,
there lies a place between.

A place where peace can be found,
if we only choose to wean.

Ourselves from our crutches,
our little selfish ploys in life.

That keep us at the clutches,
of what we fear is strife.

We conjure up the enemy,
in what we do not know.

Wall off our mental territory,
until we cannot grow.

We find such great joy,
in superficial things.

And great anguish with,
what life just normally brings.

For those that throw off the crutches,
and walk out on their own.

May find a happy medium,
that understanding home.

So if you have all the answers,
yet fear the day you die.

Please examine your foibles,
and ask of their purpose, "Why?"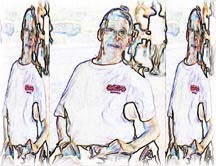 Mail
More Poems
My Place


Read War's End, the Novel

Copyright 2006 © Ronald W. Hull


12/9/06

Mail

More Poems

My Place

Read War's End, the Novel