Inspired by Richard L. Cedarburg's poem, "Juggernaut"

A behemoth, from the Bible, is generally
considered to be a hippopotamus.

Behemoth

Deep down in the soul of every man,
there lies an allegiance to the clan.

For no man stands alone.

A great cave beast in the East,
lies plotting like a plan.

For on cave walls dim lit scrawls,
outlined from whence it came.

With ochre red and barely fed,
they carved the bloody beast.

With signs laid raw they did claw,
to prepare it for the feast.

With this wheat, bittersweet,
did this mammon fall from heaven?

On monastery walls, museum halls,
they spread this bread like yeast.

Deadly cereal commercials and
fast food morsels choked with grease.

Candied yams and cholesterol hams,
fill its gargantuan gorging urge.

Bulimia bound, the stapled gut hound,
howls with a ravenous glee.

Weighed down, behemoth bound,
a medicine chest waiting to die.

Bye-bye.

HippoPotato by Sandor Nagy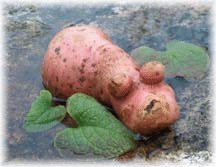 Mail

More Poems

My Place

Read War's End, the Novel

Copyright 2007 © Ronald W. Hull

6/17/07