Beauty and Brains

Have you ever wished,
you were in her genes?
Pretty as a picture,
but not what she seems.

Have you ever wished,
you could be that smart?
Ideas overflowing,
with no place to park.

Trying to perfect,
every little part.
Always fighting aging,
hoping for a new start.

Off into trivia,
puzzles and games.
Pushing the formula,
to ever higher gains.

Attracting attention,
with every move.
Using sexual tension,
to a higher groove.

Withdrawing from others,
into your shell.
Perfecting the implements,
for your own kind of hell.

Natural selection,
got you this far.
Store-bought selection,
raises the bar.

No one understands,
who you really are.
Looking for love,
that's always too far.

Because you're a star,
of your own making.
A star so misunderstood,
your heart is breaking.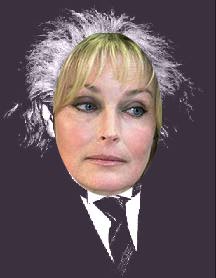 Mail
More Poems
My Place


Read War's End, the Novel


Copyright 2007 © Ronald W. Hull


2/10/07