Autumn Light

The autumn light this time of year,
eclipses summer light by far.

An eerie feeling is in the air,
as we feel what great artist's share.

They go there for the light.
They go there for the color.
They go there for the sight,
of the Sun dancing on the water.

And we come too, to catch the sight,
of dust floating in the light.

Slanting beams through cracks and seams,
lazy days in and out of dreams.

A time for calm and reflection.
A time to study light's deflection.
A time to hustle and prepare,
for winter's coming predilection.

Sitting in the warm sun, dozing,
soon, my time will come.

And I will only paint write,
in the autumn light.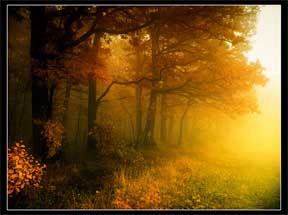 Image Courtesy DeviantArt.com

Mail
More Poems

My Place

Read War's End, the Novel

Copyright 2009 © Ronald W. Hull

10/17/09