Aquarius Rising

Aquarius rising once again, bubbling
from the equinox in the Land of Zen.

Monotonous monks drone to the sound,
of row, row… row your boat, a round.

Syncopated synapses sing singsong,
dance in the twilight of summer long.

Cerebral Cyclopes close one eye strain,
dancing the dervish down the deepest drain.

Of flower-powered vehicles vying for vain,
whirly gigging on the Ruby Ridge in the rain.

Forest of copulating capillaries chlorophyll,
green grows the oxygen air of the still.

In your pure and naked wondrous wile,
laid bare in the sunshine of your smile.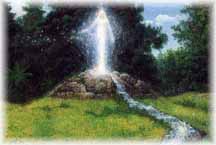 Photo © Ellie Crystall
Mail
More Poems

My Place

Read War's End, the Novel

Copyright 2009 © Ronald W. Hull

5/30/09