American Tragic

Snow was falling on that bleak December day,
No tree, no lights, no presents to brighten my way.
I was but seven when my daddy drove away.

Mommy bloody and crying, fell down to pray.
Barefoot and cold, in red snow she lay.
I wandered like a stray--never again to play.

I took up smoking and followed it with more.
A little Mary Jane and meth to help with the score,
Score I did and more I did until there was no more.

I cheated, I lied, I hurt them to the core.
Car wreck, train wreck, plane out of the blue.
I claimed them all and all were true.

A cancer spreading through my soul,
infecting all I touched to implore,
"Why did Daddy have no sense?"

"He lost it—lost it in the war."
Lost friends and face and so much more.
So now he's gone, gone before,

Me.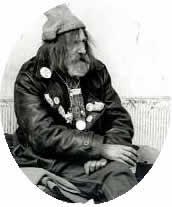 Homeless Man Courtesy of Konnect 9



Mail

More Poems

My Place

Read War's End, the Novel
Copyright 2005 © Ronald W. Hull


11/20/05