Amazing Grace

She's got style,
She's got grace.
She's a credit,
To her race.

She's got stature,
She's got face.
She's the fuel ,
For the pace.

In her hand,
She's got ace.
She plays with style,
She plays with lace.

She's got a smile,
Upon her face.
Wields her parasol,
Like a mace.

She knows her mind,
She knows her place.
To think otherwise,
Is her disgrace.

Might as well,
Cut the chase.
She's an old idea,
Vanished--no trace.

A new woman,
Has taken your place--Grace.

Vanity.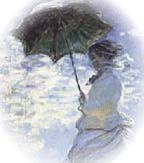 Mail
More Poems
My Place
Read War's End, the Novel

Copyright 2002 &copy Ronald W. Hull

8/18/02