It was a Firedome 4 door sedan, maroon and white with a beige interior and the îForward Look.î After I was paralyzed, I couldn't drive my '57 Ford Fairlane 500 because it didnít have power steering. On Easter break, '65, I bought the DeSoto from a local barber with $100 I'd saved from my rehab money. Its paint was faded and it was rusted out, but otherwise in good shape at 60,000 miles. It had pnuematic push button shifting from the left dash.
In Sept '66 I drove out to Stanford via Oregon with my grandmother in it. We ran out of gas in North Dakota, but visited many sights along the way. We hob nobbed with wild burros, parked up to a black bear at Yellowstone Falls in Yellowstone, and got surrounded by a herd of sheep on the road. The hemi conquered every mountain with ease. The power brakes held up well too.
The transmission started slipping, and the cheap fix I tried didn't work, so I looked for another car. I was amazed to find one just like it for $250 at a local dealership. It was like new, with no rust, new paint, and a rebuilt engine. After trading, I was out only another $100.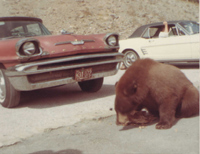 September, 1966. When my grandmother and I pulled up to the earthquake damaged view area for Yellowstone Falls, a bear had created a disabled parking space for me. He was busy shelling peanuts from a bag he had corned and paid no attention to us. A woman offered him a potato chip. He rolled back on his haunches and flicked it from her fingers with his tongue.

Note the rust on my first DeSoto. I could see through the floor boards.