Day 5
When we arrived at Georgetown, Grand Cayman Island, three cruise ships were already anchored offshore. There was a Carnival ship named Victory and Rhapsody's big sister, Voyager of the Seas. Ten thousand tourists were descending upon the twenty-eight by eight mile island, normally populated by 29,000 people. I had to use my portable wheelchair. I was carried down stairs from the second level, and then hand loaded into a tender boat that took us to the shore in the center of town.

We caught a small bus to take the Highlights Tour to the Turtle Farm. Our driver/guide, Willmot, was a strong, witty and entertaining man. When not guiding tours, he was a cameraman for the island news service. He took us by the Governor's Mansion, "Willmot's house when I am Governor," and along Seven Mile Beach to Hell. The island has 84 banks for offshore banking. The beach is lined with plush hotels and beachfront property is some of the most expensive in the world. When we got to the rock formation at Hell, we stopped and everyone got out to get pictures and post cards saying that they had been "to Hell and back." We then went to the Turtle Farm and Willmot got me out and pushed me to the tanks. While leading the tour, he got me up close and personal with the turtles.

When we got back to Georgetown, some men stepped in to help him get me out of the van. In their haste, my foam cushion wasn't placed on the seat. We hurried to catch the Undersea Explorer (view the reefs from below the water line), but found that there was no way that they would carry me down the 10-step ladder to the viewing area. We traded our tickets in for the Glass Bottom Boat instead. I had to be carried onto the boat and strained my neck trying to look at the sea floor below me from the angle they parked my wheelchair. The coral reef was not in very good shape (pollution), but there was a shipwreck from the 1932 hurricane and a number of blue and gray fish swirling around a diver who was feeding them. Near where the big cruise ships were anchored, the bottom dropped off sharply into the 27,000 foot deep Cayman Trench.

Back on shore it was very hot and I was very uncomfortable. We got some souvenirs and took the tender boat back to the ship. We had some stories to tell our tablemates from Austin at dinner that evening. While we were eating, I saw lights looming in the distance. It was the Carnival cruise ship Victory catching up with us. We were all racing to Cozumel. The show that night was a one-man Italian entertainer from Australia. He sang many songs ranging from Neil Diamond to the theme from Zorba the Greek, and played guitar with great skill--including realistic sounding bagpipes!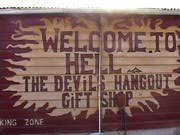 Our Welcome at Hell
Ron Pets a Turtle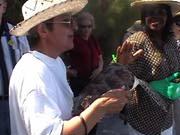 Daisey Fends Off Turtle Attack